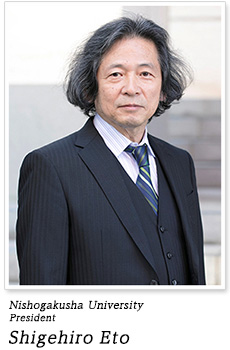 Modern society is in the midst of cultural and economic globalization. More than ever, the age we live in today demands more communication skills, or the ability for people across borders to be able to convey their intentions, placing paramount importance on not only foreign language ability, but also our own native languages. Even multilinguals think in their native language. A rich native language can become a solid foundation for our lives, as it creates a fi ne gradient of emotions. It also forms a basis for logical thinking.
As in our philosophy of establishment in 1877, Nishogakusha University has treasured the ability to read, stating "This school focuses on lectures on Chinese literature. Without the ability to read books, we cannot nurture the ability to create sentences," and has placed it as the cornerstone of education. We believe that understanding classic Chinese literature and acquiring Japanese liberal arts will correlate directly to increasing expressiveness in our students. This is a belief we have held for roughly 140 years since our foundation and is the core of our educational philosophy. Moreover, in terms of internationalization, we have accepted foreign students from 1889.
In recent years, Nishogakusha University has conducted joint research on kanji characters with universities in Europe, China, Korea, and Taiwan, in an attempt to connect our tradition of studying Japanese and Chinese literature with 21st century educational research.
Cultivating truly global human resources who possess rich and sharp reading and expressive skills to face society is Nishogakusha University's philosophy, which has been maintained since its foundation.